72% OFF "Clockworks Bundle FX", an effect bundle with Eventide hardware as plug-ins.
Now, producers and engineers can evoke the classic effects heard on countless records from the last 50 years with the Clockworks Bundle.
Painstakingly modelling every aspect of these hardware units was neither quick nor easy but now the must-have sonic beauty of these classic boxes is available for use with your favourite DAW live or in the studio.
Instant Phaser Mk II
Reminisce back to a phaser with analog personality, smooth modulations, and inherent musicality.
Outfitted with a complete host of control options, the Instant Phaser Mk II is out of the rack and into your plugin arsenal.
This new emulation of the classic effect accomplishes the same legendary sound notably used on hits like Led Zeppelin's "Kashmir" and "Presence".
The capabilities have been expanded, and now you can even take your phaser on an excursion from the 70s far into the future with the delightfully characteristic "Age" knob.
Add Age for component drift and electrical leakage in your phaser
Offers three different flavors of phasing with the Mode switch: Shallow, Deep, and Wide
Utilize one of four distinct methods to control the phasing
Depth allows you to combine the phased signal with the dry signal
Added Side Chain function allows you to trigger the Envelope Follower from a separate source in the mix for inter-track mingling
Exercise total control of the Oscillator with Sync and Retrig controls
Use Feedback control for a more pronounced sound
Includes standard gain input and output
Instant Flanger Mk II
Turn flat mono guitars into huge stereo leads or have your single-channel synthesizer fill out the sides of your mix with pseudo-stereo.
The Instant Flanger Mk II has dual outputs that create three different sonic images – "Shallow", "Deep", and "Wide".
Combining "Wide" Mode with the "Low Cut" control is an easy way to place multiple harmonies behind the lead.
Fine-tune the resonance of your flanging effect by using the "Depth" and "Feedback" controls.
Tape machines use servo motors to run at a constant speed and when an engineer pressed a thumb on the flange and then suddenly let go, the capstan motor servo reacts – overshooting and undershooting as it seeks to recover proper speed.
In other words, it 'bounces'.
The Instant Flanger convincingly mimicked this behaviour with its innovative "Bounce" control knob.
Omnipressor
Introduced in 1971, the Omnipressor® rack unit was widely used on hit records throughout the last four decades.
One of our first customers was a young Brian May, lead guitarist of Queen.
With the Omnipressor in his rig, his sound was never the same again.
Professional quality dynamic-modifier for gating, compression, limiting and expansion.
The Omnipressor is even capable of reversing a sound's envelope, making loud sounds quiet and quiet sounds loud.
This plug-in is based on the original Eventide Omnipressor, introduced in 1971 and used on hit records throughout the last four decades.
Dynamics processing for creating otherworldly sounds
Gating, expansion, compression, limiting, and Dynamic Reversal
Intuitive interface makes it simple to operate with the use of a Function dial
H910
The H910 Harmonizer was the world's first digital effects processor.
With its unique combinations of pitch shifting, modulation and delay, the H910 can be heard on countless ground-breaking works by artists from AC/DC to David Bowie to Frank Zappa.
Simply put, nothing sounds quite like it.
A powerful creative tool, the H910 plug-in for AAX, VST and AU is a faithful recreation of the original hardware.
Use the H910's pitch changing ability to create specific musical intervals and perfect harmonies, spread guitars, fatten snares, apply subtle organic de-tuning to synths or add slap-back delays to vocals.
At extreme settings, you can create unheard-of mechanical sounds, drone effects or robot language using self-oscillation, delay, and anti-feedback.
SP2016 Reverb
The plug-in includes authentic emulations of Room, Stereo Room, and High-Density Plate algorithms.
The lush reverb can be heard on countless hit records by Talking Heads, Adele, Mariah Carey, Eminem, and more.
Boasts a variety of artist presets including some by Dave Pensado, Richard Devine, Joe Chiccarelli, Sasha, George Massenberg, The Butcher Bros., Buda and Grandz, and more.
H949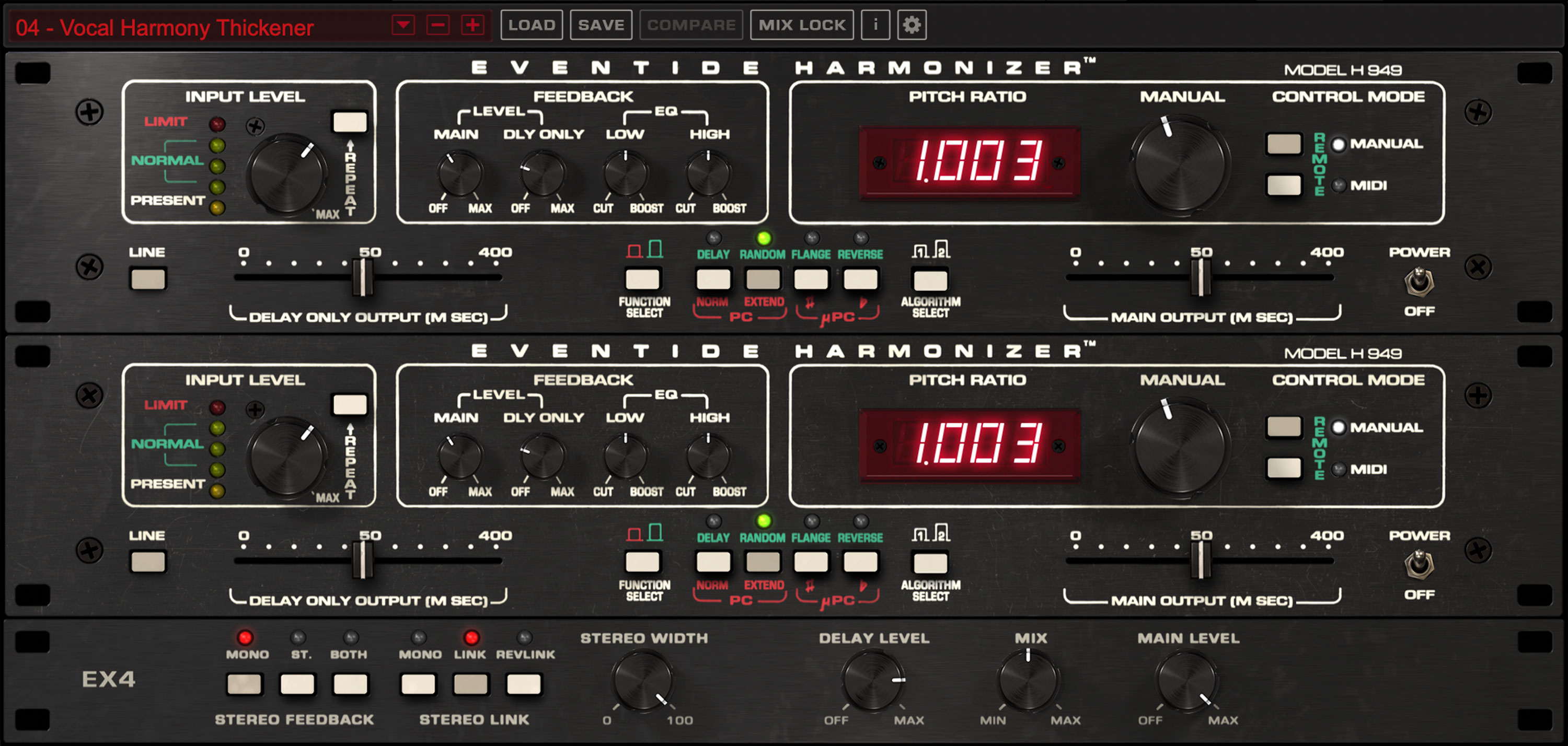 In 1977, Eventide released the H949, standing on the shoulders of the H910 as the second in Eventide's family of Harmonizers.
It introduced a formal micro pitch-shifting mode, which is a great sound for lead guitar virtuosos.
It also had the first Reverse delays and introduced a Random pitch mode, which works great as an automatic double-track for guitars and vocals.
And, the H949 conquered the 'glitch' by using advanced autocorrelation techniques. The bundle includes H949 Dual.
Regular price $1,104 on sale for only $299.