Bundle of dedicated modern synth bass plug-ins and the latest presets, Loopmasters Plugins "Bass Master + Free Expansion" is 61% OFF.
Bass Master
You don't need a manual if you know the synths to some extent; everything is on one screen, so you can see it clearly and easily.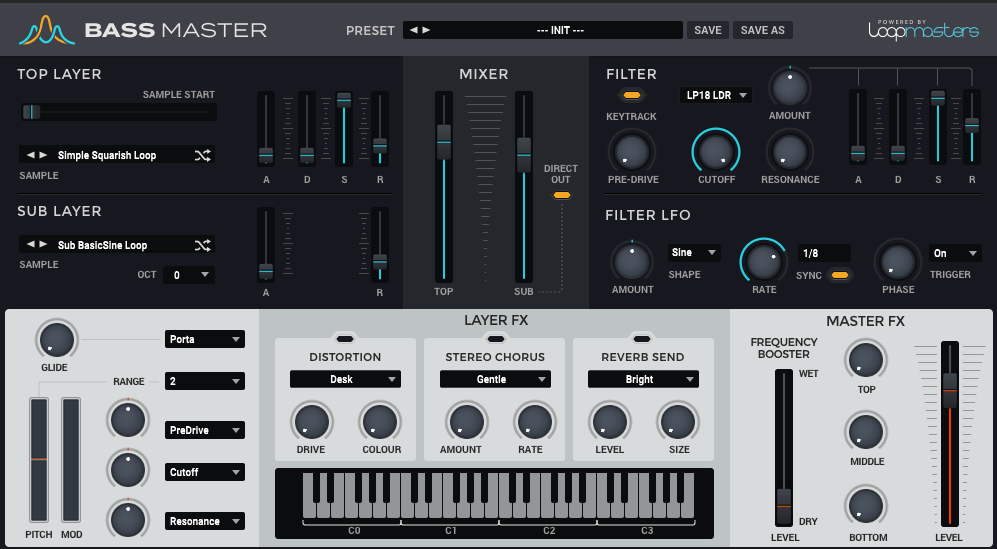 It is designed to allow you to create various bass tones simply and intuitively, rather than to create complex sounds. It's more of an honors sound, so it's possible to achieve some kinky sounds, but I think it's better to go for easy-to-use tones.
There are over 350 presets available. There are many easy-to-use tones of various types. Searching for a close tone and adjusting it will lead you to your desired tone in the shortest time possible.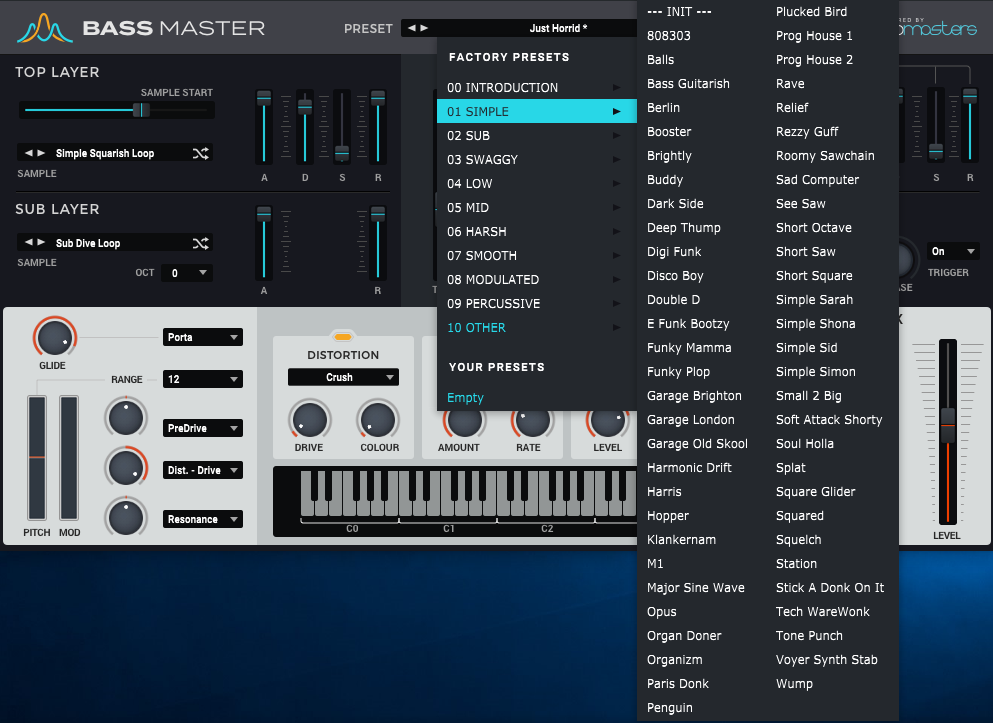 There are main oscillator and sub-oscillator on the left side, which are combined to create a tone. There are 217 waveforms available, each with almost 50,000 combinations of waveforms. The load is not too high, so it's useful for adding sub-basses, for example.
There are 13 filter types, and three effectors: Distortion, Chorus, and Reverb. I got the impression that they have the bare essentials, carefully selected.
The sound tends to be solid and aimed at EDM and electronic music. There is not much of an analog flavor to it. The sound is bright, grainy, and modern.
Here's a video from producer Tim Cant.
If you want a quick synth-based sound anyway, but also want to make adjustments instead of samples, this is the perfect instrument for you.
Free Expansion Pack: Dirty Analogue
Within you'll hear the direct end result of complex wav samples, recorded from vintage hardware synths and modern modular synthesiser modules, being processed through a mixture of hardware distortion pedals and being driven hard into analogue desks for a pure overdriven analogue feel.
Dirty Analogue brings you a massive host of new and customisable sonics to play with; including crunchy acid blips, fizzy mid-range basses, gut-wrenching drones, crushed subs and harmonic-rich Lows.
This collection is a great addition to Bass Master's already top-drawer stock sounds that will enable you to layer gritty analogue overtones on top of your existing favourites.
Regular price $85.07 on sale for only $32.89.