Loopcloud is offering a Black Friday Offer.
You can use "Loopcloud" for 3 months for about $3 and get Loopmasters "Bass Master" (normally worth $89) for free, which is the best promotion ever for Loopcloud.
Loopcloud Black Friday Offer
Loopcloud contains vintage synths, drum machines, guitars, a cappella and all the instruments you could ever want.
Lovingly recorded in the best studio environments, it sounds as hot as your favorite tracks.
The sound of a famous artist? You won't find more top artist content anywhere else. It's the only service that can sync with your DAW, so you can preview the sounds of your entire library along with your tracks.
BLACK FRIDAY OFFER
3 Month Artist Plan Subscription for £3 / $3
Free Loopmasters Bass Master Plugin
1 GB Loopcloud Sample Pack
Access to 4 Million Sounds
Best DAW Integration
100 Points to Spend on Sounds
Loopcloud DRUM and PLAY Plugins
8 Loop Editors to Stretch Out Ideas
Full Effects Rack for Sound Processing
Loopcloud
The biggest advantage of Loopcloud is that all the large libraries purchased from Loopmasters are stored in the cloud. The best part is that you can download and use only what you need.
You don't have to worry about storage pressure. It's also convenient because it's stored in the cloud, so you can access your entire collection from any device. No matter how much you grow, you'll never have to worry about it.
Plus, you can manage your samples as well, so you can manage your entire library in one place.
The service is continuously updated and becomes a powerful partner in the ever-evolving songwriting process.
BassMaster (normally worth $89) free of charge
You don't need a manual if you know the synths to some extent; everything is on one screen, so you can see it clearly and easily.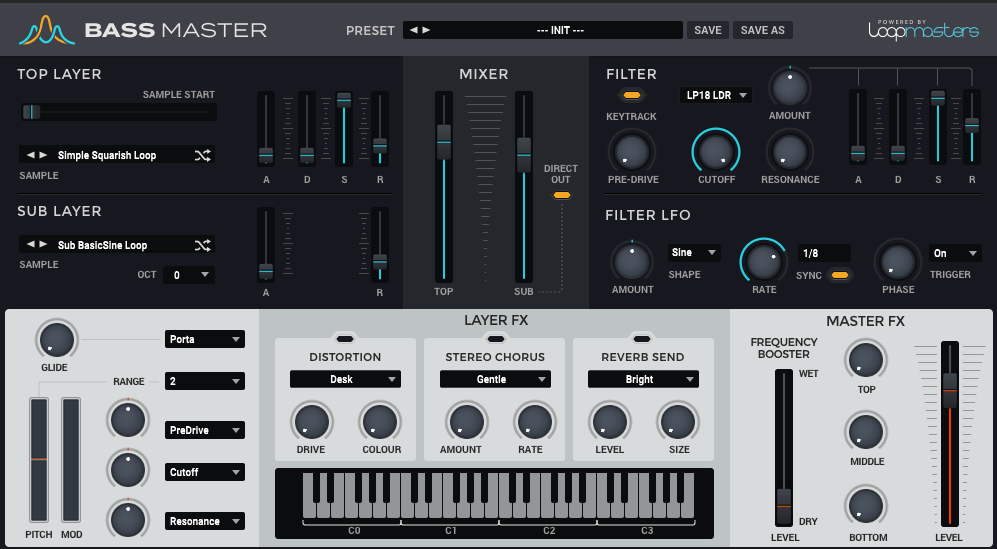 It is designed to allow you to create various bass tones simply and intuitively, rather than to create complex sounds. It's more of an honors sound, so it's possible to achieve some kinky sounds, but I think it's better to go for easy-to-use tones.
There are over 350 presets available. There are many easy-to-use tones of various types. Searching for a close tone and adjusting it will lead you to your desired tone in the shortest time possible.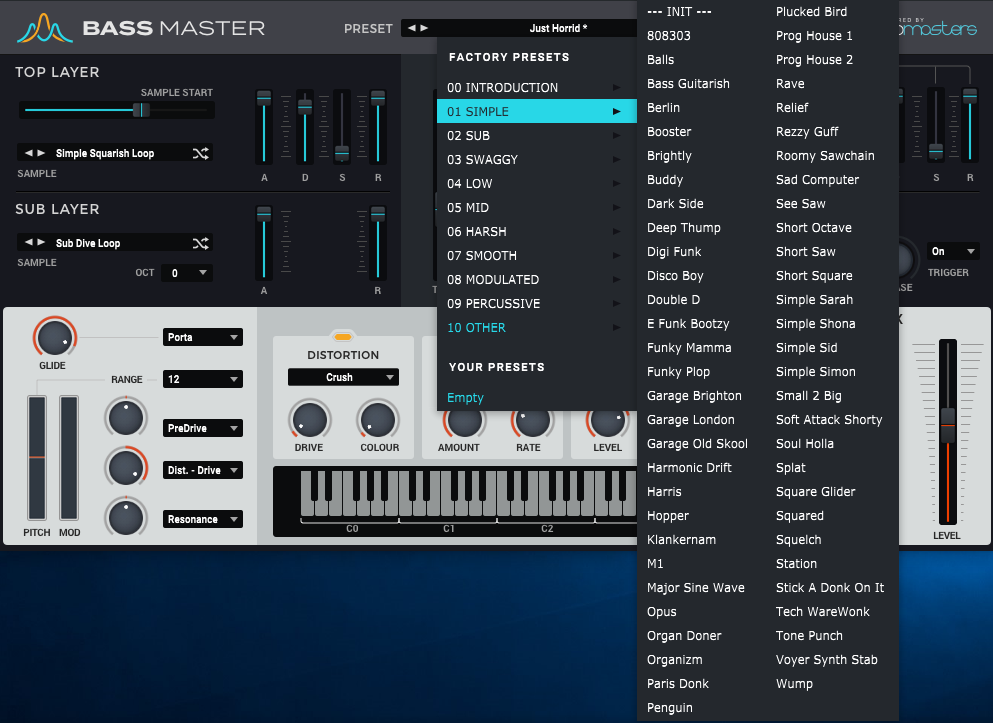 There are main oscillator and sub-oscillator on the left side, which are combined to create a tone. There are 217 waveforms available, each with almost 50,000 combinations of waveforms. The load is not too high, so it's useful for adding sub-basses, for example.
There are 13 filter types, and three effectors: Distortion, Chorus, and Reverb. I got the impression that they have the bare essentials, carefully selected.
The sound tends to be solid and aimed at EDM and electronic music. There is not much of an analog flavor to it. The sound is bright, grainy, and modern.
Here's a video from producer Tim Cant.
If you want a quick synth-based sound anyway, but also want to make adjustments instead of samples, this is the perfect instrument for you.
Don't miss this opportunity as it is a limited time offer.